Version 2.x cannot be used with Version 1.x. Please make sure that all devices have the same version.
We have confirmed that the application works on Windows 10, Mac OS Ventura, iOS 16.2, and Android 11, but we do not guarantee that it will work on all devices.
Version2.3.1
・Supports processing to increase or decrease the number of list views displayed by changing the window size.

Version2.3
・Performance Improvements.
・Improved Network Time Protocol access method.
Version2.2
・Changed default settings to allow selection of local drive and Google Drive.
Version2.1
・Change to be able to select FaceID / TouchID in the initial settings.
・Other minor bug fixes.
Version2.0
・Improved performance.
・Increased security.
・Other minor bug fixes.
Version1.9
・FaceID / TouchID authentication support (iOS only).
Version1.8
・Fixed a problem in which an unnecessary indicator was displayed when registering a password.
・Fixed a problem with deleted data being restored when using multiple devices.

Version1.7
・Fixed a problem that prevented proper operation when sign-in expired.
・Improved overall performance.

Version1.6
・Google Play support.

Version1.5
・Fixed a problem that English messages are not displayed for functions added in 1.4.
・Added automatic sign-out function.
・Fixed a problem that prevented the program from starting on certain PCs.
Version1.4
・Fixed a problem that batch deletion fails when importing to Excel.
・Supported transparent characters.
・Moved theme color change to account settings menu.
Version1.3
・Fixed an issue where connection with Google Drive fails under certain circumstances.
・Improved UI of account menu to be easier to understand.
・Improved access speed of Google Drive.
・(Transparent characters will be supported in the next version.)

Version1.2
・Fixed an issue where unexpected buttons were being pressed in response to the top-most scroll.
・Enhanced the logic of password strength calculation.
・Adjusted display time of copy display screen
Version1.1.2
・Fixed a bug in the input screen that caused incorrect behavior when saving after adding a blank entry.
・Initialized cursor position on master password setting screen.
・Added swipe support for input screen and account setting screen.
Version1.1.1
・Fixed initialization wizard display was misaligned when launched in landscape mode
・Fixed automatic font scaling for some input fields according to the number of characters.
・Adjusted UI positioning

Version1.1
・Fixed a problem with displaying the menu during creation
・Wizard for creating master password is now displayed at first startup.
・Network connection timeout has been set.
Version1.0
・Published Apps
"Windows Protected your PC" is displayed.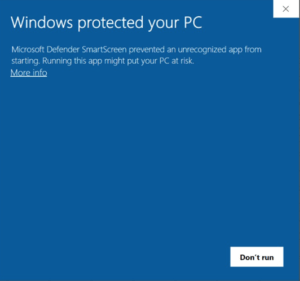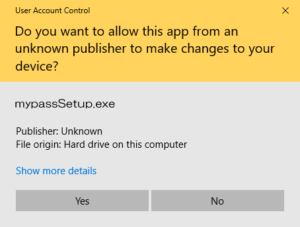 To protect your PC through security, you will see this message in many cases.
If this message makes you feel that the application is not trustworthy, we regret to inform you that you must abort the installation…
If you trust it, you can install it by selecting "More Info" -> "Run Anyway".